Buying a home is one of the biggest financial decisions most of us will ever make. And because it's not something we do every day, the home-buying process can be daunting for both first-time buyers and existing homeowners alike. Poor decisions could cost you thousands of pounds and good decisions save you similar sums.
If buying a home is right for you (whether you're a first-time buyer or you're moving home), it'll be easier and less stressful if you follow a sensible process.
In a series of 5 guides we set out all what you need to know and do to help you on this journey.

Overview
Part 1 - Four things to consider about buying a house
Part 2 - 12 things to consider in choosing a home
Part 3 - 3 steps to financing your home
Part 4 - How to negotiate the purchase of your new home
Part 5 - The mechanics of buying your new home
Buying a home - Part 5: The mechanics of buying your home
Once you've agreed the price and any other terms of the purchase of your new home, you navigate the financial and legal formalities.
As buying a house isn't something we do regularly, it's easy to get overwhelmed with the complexity and various moving parts.
In this blog we explain all the various steps and things to be aware of and watch out for.
Get your full mortgage offer
Once you've agreed to buy a property (and if you're not a cash buyer) you should now contact your chosen mortgage lender (or broker) to complete a full mortgage application. If you obtained a decision in principle (DIP) earlier in this process you might already have a mortgage application and if you're still happy with those terms, you can use that.
To get your application processed quickly, take your time on it: answer all the questions you need to and mark 'not applicable' to any others. Leave no gaps in the form. Then send in your form with payment of the lender's fees and any documents they've requested to verify your identity, address and your income.
Once your lender has run all their checks – and is happy that you can afford the mortgage and that the value of the property covers the mortgage – they'll send you an offer stating how much they'll lend you, over what term in years and at what rate of interest.
How long does it take?
The time it takes (from application to offer) varies between mortgage lenders but depends largely on the quality of your application. Typically, it will take between 20 and 40 working days. So, you'll want to get this process moving as soon as you've agreed your purchase.
Your survey choices
Your mortgage lender will require a survey of the property you're buying. If you're buying without a mortgage, it still makes sense to have a survey.
As a minimum, your lender will require a survey for their benefit to check whether the property is valuable enough to cover the money they're lending you. This mortgage valuation survey is relatively low cost but will only look superficially at the structure. So, it won't necessarily reveal all the issues that could cost you money to put right in the future.
The next level of survey is a Homebuyer's report (some of which also cover the valuation for the lender) but which is carried out on your behalf. This report will help you find out if there are any major structural problems, such as subsidence or damp, but it does not look beyond the floorboards or behind the walls.
A structural or 'full' property survey is the most comprehensive and therefore the most expensive. It thoroughly examines the condition of the property and is often recommended for older or more unusual properties. The surveyor will report in depth on current and potential defects and advise on what repairs might be required.
You can find out more general information on homebuyer surveys here and your lender (or mortgage broker) can advise you on their survey options. Costs will depend on the type of survey and on the purchase price/valuation of the property.
If the mortgage valuation comes back lower than the purchase price you've agreed, it will mean that your Loan to Value (LTV) ratio will be higher than you originally thought, and this could result in you: a) being unable to get a mortgage on this property or b) having a reduced choice of mortgages or c) having to pay an increased rate of interest.
Your lender is unlikely to refund fees for valuations undertaken. So, get a good estimate of value for the property you want to buy. Search current property prices online before making offers and especially before applying for a mortgage.
Appoint your conveyancer or solicitor
At the same time as making your mortgage application, you should also appoint a conveyancer or solicitor to handle the legal side of your property purchase.
Their 'conveyancing' task is to transfer the legal title on the property from the seller to you – which includes:
Dealing with the seller's solicitor and handling and checking contracts.
Carrying out local council searches to make sure (amongst other things) that there are no plans for your property or rights of way that you've not been told about
Checking with the Land Registry that the property title is acceptable and transferable
Transferring the funds to purchase the property
These are vital tasks and you need to choose your supplier carefully.
What to consider when choosing a solicitor or a conveyancer
Both solicitors and licensed conveyancers are regulated and insured, and both will follow a similar conveyancing process.
Licensed conveyancers specialise in property law and transactions. A solicitor is trained in many aspects of law. Fees for conveyancing can vary widely both between and within each profession, so they're difficult to compare.
The key is to find the expert who can properly deal with the work you need done at a fair price. A fully qualified solicitor may be your best choice if your property purchase could be legally complex. For instance, if there's a boundary dispute or the sellers (or you) are divorcing, then having a solicitor with knowledge beyond property conveyancing would be valuable.
For most simple property purchases however, a conveyancer will be able to handle it all. Service is the key issue to watch out for because you'll want to be kept up to date on progress or issues as they arise.
Many professions struggle to provide great customer service and levels vary across both of these professions too. So, choose carefully and take recommendations from family or friends and other professionals (your mortgage broker or lender or estate agent) who will have lots of experience in this area and who have an interest in you getting an efficient legal service.
Online conveyancing is growing, largely because of its low cost. Be aware that you may only have access to your conveyancer by email or phone and might not deal with the same person each time you call.
That said, some 'tech-savvy' firms allow you to track how the purchase is progressing online, which can save you time and frustration with phone calls. And multi-adviser firms might offer a more continuous service than some small solicitor practices – which might struggle during holidays and busy times. So, if you go with a small firm of solicitors, ask them how they will cover your needs during holidays or in the event they're off sick.
You can find more detail on the conveyancing process here.
Commit to buy - exchange of contracts
The exchange of contracts in England and Wales is when your purchase becomes legally binding. The process in Scotland is outlined here.
So, before starting this stage be absolutely sure that you want to go ahead on this purchase. And double check that you'll have the money you need for your exchange deposit (and a holding deposit if required) and to cover your other costs (like stamp duty if applicable) as outlined in part one of this guide.
Here's an outline of what your solicitor/conveyancer will do and what actions you'll need to take. Check with them for details in your case.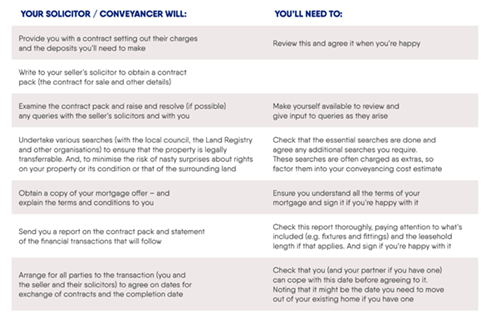 * Your exchange deposit. For first-time buyers, this is the same as your mortgage deposit – the property price less what you're being lent. Or, if you're selling your current home to buy another one, your exchange deposit is typically 10% of your next home's purchase price. And, because many existing homeowner's deposits are tied up as 'equity' in their home, you'll just need to make up the difference between your buyer's deposit and your 10% figure. Ask your solicitor or conveyancer for details in your case.
**Caught in a chain? In many cases your home purchase and/or sale will be part of a chain of transactions. And in this case your solicitor/conveyancer will only release your contract once they're sure that all the other people in the chain are happy to go ahead. So, if only one person pulls out or delays, you (and everyone else in the chain) will have your deal held up.
What happens if you pull out after you've exchanged contracts?
If, after 'exchange' you do not complete the purchase, you will lose all the fees you've incurred and your deposit. And you might owe the seller more if your deposit was less than 10% of the purchase price.
So, do everything in your power to be sure about (and ready for) your home purchase before you exchange contracts.
Get ready and move in
So, the big day (completion day) is approaching when you'll take possession of your property – normally around midday.
Your conveyancer will advise you of any final payments to make before completion day. And then, on completion day they will deal with all the necessary transfers of money, receive the deeds to your property from your seller's solicitor and register your new ownership with the Land Registry.
If you're selling your existing home, you could move out before the completion date – but for that you'll need somewhere to go to and somewhere to store the contents of your home. So, a lot of people move out of any existing home on the day of completion (or a day or two before if there's a long way to travel) Either way, you must ensure that any property you sell is in the condition agreed in your contract (with all fixtures and fittings) on completion day.
Make good plans and work them
You'll want to have a very solid set of plans (tailored to your situation) for what to do before and after you move into your new property.
And some good starter lists of the jobs you need to consider are linked here:
What happens after completion
After completion, your conveyancer will finish their work and:
Pay the Stamp Duty Land Tax – with the money you sent them earlier
Send legal title documents to the Land Registry
Send a copy of the title deeds to your mortgage lender which they'll keep till your mortgage is paid off
Send you your title documents – typically around 20 days after completion
And for leasehold properties, notify the freeholder.
Be sure to check that all these tasks are done.
It makes sense to keep all your home purchase paperwork in a safe place – along with other documents – many of which you'll find listed here. And keep the estate agents' sales notes – for a head start when you come to sell.
Lastly, your conveyancer will send you their final bill for payment – which, unless you're planning redecoration or improvements, should be the end of your big upfront costs of buying your home.
And either way, this might be a time to relax for a moment and enjoy it.
Home buying is an achievement.